Muffins
Quiche
Scones
Cinnamon Roll
Coffee Cake
Cream Puffs
Carrot Cake
Cookies
Biscotti

Bagels
Cheese/Jalepeno



Plain
Herbal
Smokey Cheddar
Smoked Salmon
Sundried Tomato

---

Large Burrito
Small Burrito
Meat Biscuit
Veggie Biscuit
Sweet Biscuits & Sausage Gravy
GF Breakfast Sandwich




| | |
| --- | --- |
| Eggs [2] | |
| Sausage Patty | |
| Sausage Gravy | |

---

Drip Coffee
Latté / Cappuchino
Caramel Latté
Mocha ~ Dark, White or Mexi
Rolo ~ Caramel Mocha
Americano
Espresso
Macchiato
Con Panna

---



Black
Green
Herbal
Earl Grey
Market Spice
Lapsang Souchang
English Breakfast
Jasmine
Gunpowder
Chamomile
Calypso
Hibiscus
Peppermint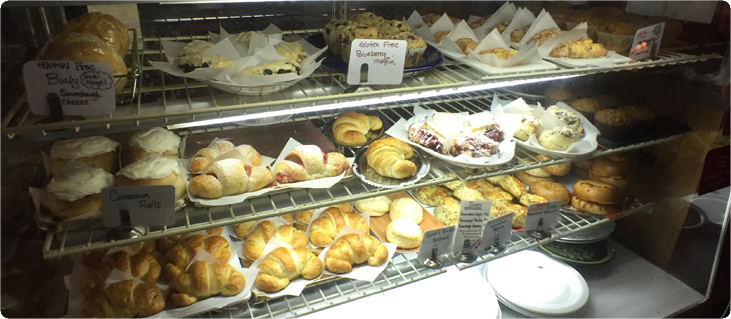 Avellino Coffeehouse
uses fresh, local ingredients for all of its baked goods! Our baker comes in at 2 AM to prepare every item on our menu from scratch, ensuring that each baked good you order is fresh every day.
Avellino Coffeehouse
is renowned for bringing
quality, variety
and
consistency
to our baked good offerings that include delectable danishes, sumptuous cinnamon rolls, our magnificent morning glory muffins, our superlative scones, and much more.
Are you gluten intolerant? No worries.
Avellino Coffeehouse
offers a wide selection of delicious, all-natural
gluten free baked goods
- made and delivered fresh daily from our sister store in Bellingham,
Avellino Gluten Free
.
We invite you to visit
Avellino Coffeehouse
and treat yourself to a broad selection of regular and gluten free American pastry items baked fresh daily with local ingredients.